1.  Squid Pancake (Bánh xèo Mực):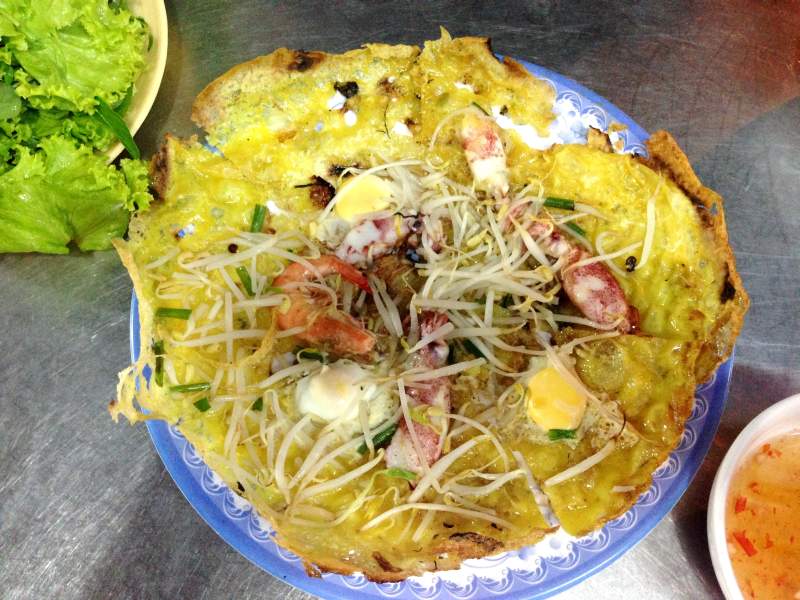 Squid pancake is one of the most special dishes of Nha Trang. Besides to the ingredients required for making ordinary pancakes, the ingredients that make the Nha Trang pancake becomes famousare the fresh and rounded rice squids. The squid is fresh squid, not cut off the ink. Visitors will enjoy this delicious dish with sweet and a little spicy sauce.
2.  Banh Canh Nha Trang:
Although this is just a popular dish in Nha Trang, however, it has become a delicious dish that tourists from around the world must not miss to try. "Banh canh" in Nha Trang usually consists of three types: rice flour soup, rice noodle soup and filter cake. And the highlight of this tasty dish is the thick and sweet sauce with grilled pieces of braised fish and crispy fish enjoying with fresh chilli. Especially, grilled fish here is naturally sweet, pure and soft.
3.  Jellyfish Noodle:
Jellyfish noodle is a specialty food of Nha Trang. A bowl of jellyfish noodles with clear and sweet broth which is made from the parrot with white pieces of jellyfish certainly satisfy the most fastidious gourmets in the world.
The main ingredient of this dish is jellyfish, which is caught in the sea of Nha Trang. These white jellyfishes have white color, long, crispy and cool taste. This noodles is served with grilled fish. When eating this dish, sliced live vegetables, chilli and lemon are indispensable side dishes.
4.  Lac Canh's Grilled Beef:
Lac Canh' Grilled Beef is another famous dish in Nha Trang. At first, this was only a name of a restaurant. However, for many years, ithas become a trademark. This name is used to refer to a good Nha Trang'dish that tourists must try when coming here.
The main dish is ordinary beef, nevertheless, only the family members knowthe traditional marinated spice method which has created a very different taste that cannot be found in anywhere else. And the marination method is a secret creating the success of this dish.
 Address: 44 Nguyen Binh Khiem street, Nha Trang city.
5.  Ninh Hoa's Spring Rolls:
There are two types of spring rolls: sour spring rolls and grilled spring rolls. Each type has its own flavor, but all are delicious dishes. For sour spring rolls, the ingredients are used to the lean meat of a pig. And the process of making spring rolls is completely handmade.
Grilled spring rolls are made from marinated pork and then cooked on a charcoal stove, served with rice vermicelli, raw vegetables, cucumber with a delicious sauce. Only need some simple ingredients, butthis famous dish of Nha Trang has created a brand that attracts a lot of visitors, both domestical and foreign visitors.
6.  Banh Can Nha Trang:
"Banh Can" is a popular dish of Nha Trang, having the shape looks like "Banh Khot", a Southern cake. This cake is made from rice flour, shrimps, eggs and  squids. The side dish of this dish is a bowl of fish sauce with green fat onionand a mango salad dish. Enjoying this savory dish in cool days while chatting with friends is comfortable.
7.  Fish Noodle:
Fish noodles in Nha Trang are very special with slender and slightly thin vermicelli. About its ingredients, fried fish is made from crispy and fresh mackerel, anchovies, chives. The clear broth is made from bone, fresh fish head and pork bone. Visitors can taste this dish with freshly chopped vegetables and salted chili sauce. Frankly speaking, only a bowl of fish noodle make you feel the sea's breath in Nha Trang,
Same Article: