1.  Nha Trang Beach:
 Nha Trang beach is the largest coastal city in the center of the city. The average temperature here is always not over 26 celcius, the weather is warm, dry, the coast is flat and the nature is very romantic. With a length of about 7 km, Nha Trang beach stretches from the Thanh Nien football field to the provincial People's Committee. So, when you come to Nha Trang, you can find for yourself a favorite place to swim, dive, or play with sand and waves. If you do not like swimming, you can take a walk in the early morning, breathe fresh air and watch the sunrise.
2.  Doc Let Beach: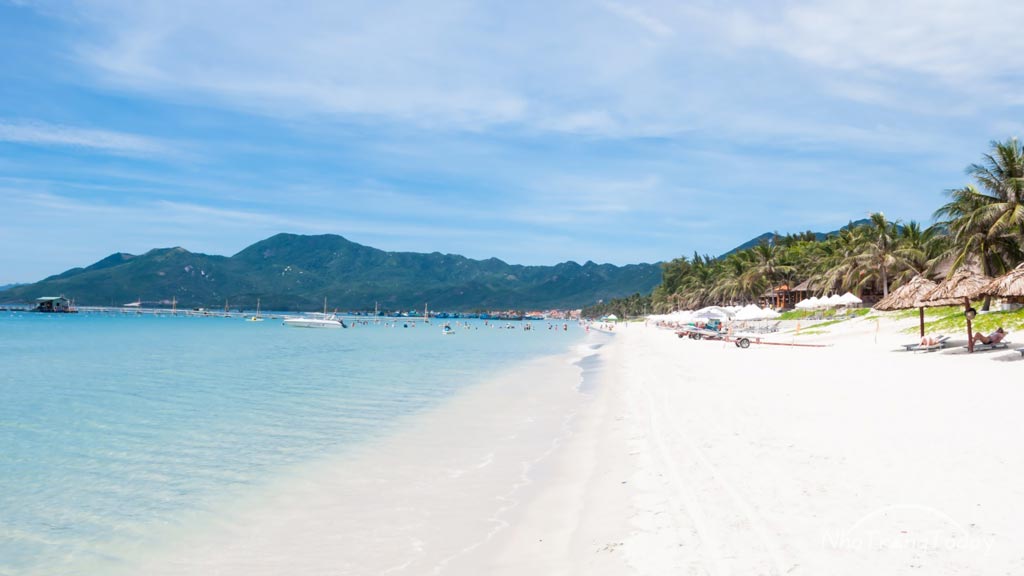 About 40km in the north of Nha Trang, there is a famous place: Doc Let. This half-moon beach is located on the banks of Van Phong Bay, very beautiful with its white sand and crystal clear water. This is a shallow beach and having small waves. Green trees which run along the coast also create a unique attraction of Doc Let. And the strange thing is that the surface of Doc Let beach is so flat that visitor can bike or play near the edge of the water.
Doc Let is also famous for its seafood market filled with fresh seafood. Having any request about enjoying seafood here, you will be served with a very affordable price.
In Doc Let beach, visitors can participate in many services such as water motorboat, kayak. If you are fond of adventurous activity, let's take part in the dangerous sportslike parachute flying.
3.  Long Beach:
Following the path of Cu Hin road in the south of Nha Trang, about 25 km, you will reach the Long Beach. This beach is fascinated by the wild beautiful nature: blue sea, clear water and smooth sand layer that as smooth as stepping on the velvet carpet. Long beach also has a lot of tourism activities such as water motor, self-driving canoe, surfing boat, scuba diving and snorkeling.
Long Beach has a system of restaurants which are specialized in fresh seafood such as peanut butter sauce snail, grilled green bean sauce fish, and Cam Ranh snack, which are very crunchy and juicy.
4.  Dai Lanh Beach:
Dai Lanh beach lies between Phu Yen and Khanh Hoa province, about 80km from Nha Trang city and about 30km from Tuy Hoa town.
After 200 years, the beauty of the Dai Lanh beach has gone into the poetry and paintings. Dai Lanh beach owns a long white sand, clear blue water that visitors can see to the bottom. The beach is quite wide, long, and every day there are many boats passing here.
5.  Son Dung Beach: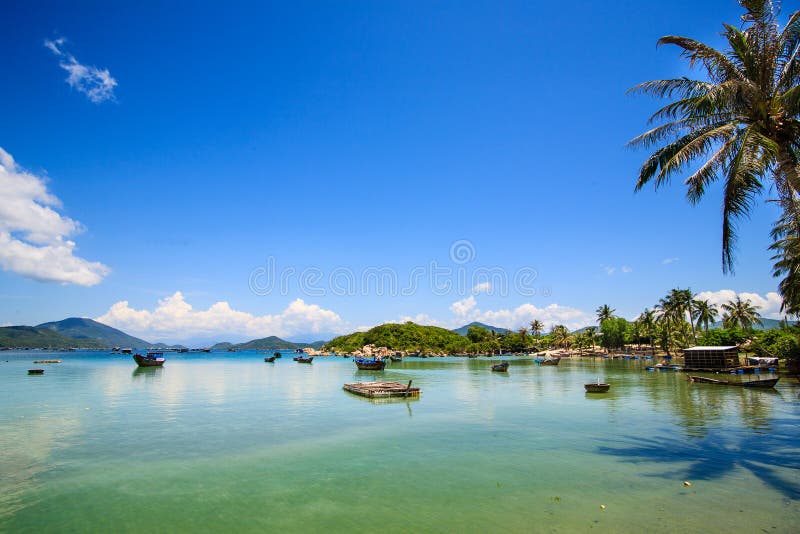 From Nha Trang to the foot of Co Ma, turn right and continue going about 10km, visitors will go to the Son Dung beach.
Located on the east side of Hon Gom island, this is the first place welcoming sunrise spot of a new day. Son Dung beachis a very attractive and unique stopover for visitors during the journey to explore Van Phong Bay. In the early morning, walk on the beach and deep breathing the sea air, you will understand why this beach is considered by experts around the world as a pristine and rare beach in the world.
Sam article:
- Top 6 tourist destinations in Nha Trang
- These famous dish in Nha Trang, have you ever tried? 
Same tour: