Ninh Binh is a province which located in the Northern part of Vietnam. Three years ago, it was rewarded as one of Worldwide Cultural Heritage by the UNESCO. However, it is quitely known widely with many domestic and international visitors after the movie "Kong-Skull island" was filmed here. Ninh Binh is totally a beautiful place to relax. If you having a chance to travel to the norther Vietnam, Let Viet Unique Tours take you to Tam Coc- Bich Dong in Hoa Lu - Tam Coc 1 day tour to admire the beauty of this spot which is compared as "HaLong bay on land".
1.  The geographical location of Tam Coc- Bich Dong:
Tam Coc- Bich Dong belongs to the ancient capital of Vietnam, Hoa Lu, which is away from Hanoi about 100km in the South. This tourism spot covers the area of about 350,2ha and it is far away from National Highway 1A about 2km, 7km from Ninh Binh and 9km from Tam Diep city.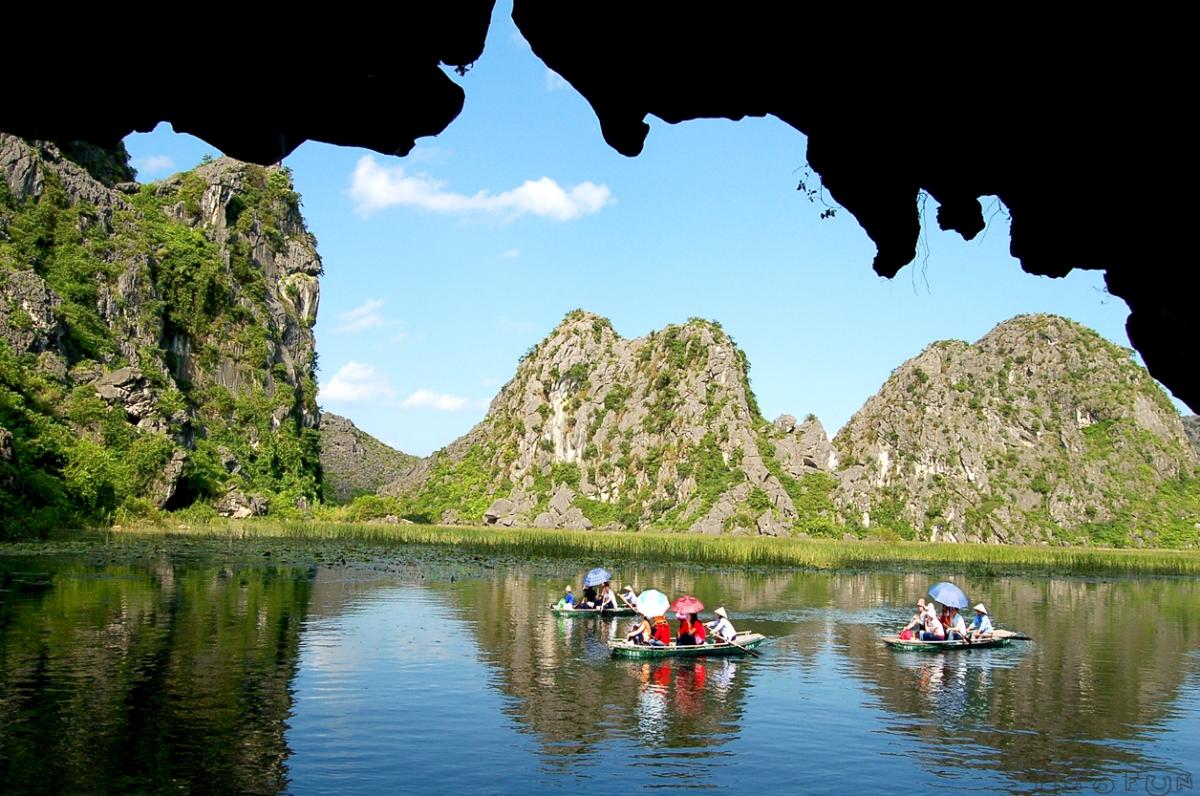 2.  Beautiful main scenes of Tam Coc- Bich Dong:
Tam Coc- Bich Dong includes three main caves which are named in turn as Ca cave, Hai cave and Ba cave. Nevertheless, three caves all have one similarity is that every cave has sparkling colors with thousands of stalactites. Coming to Tam Coc- Bich Dong, visitors can realize that this place still maintains many beautiful spots, original nature with many caves which are mixed with the rustic life of people in there. Tam Coc- Bich Dong also owns many historical and cultural famous heritages such as: Bich Dong pagoda, or Thai Vi temple that surely will appeals any visitors, even the most fastidious visitors.
- Ca cave is the largest cave and also the most beautiful cave among three caves. Its length is 127m and it is located in the middle of huge mountain. The door of cave's width is about 20m and it is bended as the arc-shape. Two sides of mountain range shield the river as two strong bodyguards protect the river for its clean water.
- Next visitors will have a chance go through Hai cave and Ba cave. There is one historical theory about two caves. The olders supposed that this was the place where Queen Duong Van Nga welcomed King Le Dai Hanh after he fought with the Tong enemy.
- Then we go to Tien river, a clear stream which is possible to see to the bottom. In this river, each group of small fish swimming together, sometime is hidden behind the moss. Tien cave, a place is known as the heaven of the world with many stalactites form the shapeof the Fairy or the elephant and so on.
- Bich Dong pagoda is a worth visiting spot too. It has three small pagodas which are located on the cliff. The first pagoda is Chua Ha, climbing about 60 steps, visitors will visit the following pagoda, Chua Trung, a half roof pagoda. One special feature of this pagoda is that the main area lies indented cliff, while the wall is built entirely by leaves. Passing over 30 steps, we will go to Chua Thuong, the Upper Pagoda and it is the place that Nguyen Nghiem prime minister saved his poetry.
- Coming to Tam Coc- Bich Dong, we can also admire the beauty of 5 mountains surrounding Tam Coc which are called as Ngu Hanh Son. If visitors beat one bell, immidiately five bells from Ngu Hanh Son will sound back.
Facing to the immense river and majestic mountains of Tam Coc-Bich Dong, people just like small babies. Come here, each visitor can blend into nature to enjoy the fresh air, and their souls will be relaxed. Not only a scenic spot, Tam Coc-Bich Dong is also a spiritual destination in Ninh Binh province which is ready to welcome visitors crossing anytime.
Same article:
-    Get lost in the Hanoi Old Quarter.
-    Bat Trang Pottery Village:Coming back to visit the best ancient traits of hanoi people.
-   Hanoi Traditional Village: The white silk dress: As soft as a beatifull girl.
Tour relate:
-       Hanoi City Tour and cooking class.