Coming to Sapa, visitors will not only be impressed with beautiful natural scenery of Sapa but also given an opportunity to enjoy many specialty dishes which are only found in this highland. According to a number of visitors, sometimes the reason why they have to comeback here is because of the attractive cuisine.
1.  Thang Co:
Thang Co is the dish attaching to Sapa. This is the traditional dish of Mong people and it only exists in the fair trades or village festivals. The cooking method of this dish is totally complicated. To make this dish, Mong people have to use at least 27 spices such as cinnamon, cardamon and so on. The main ingredient is meat, bone and organs of horse. Thang Co is cooked in a big saucepan within a few hours. When eating, the cooker will ladle into small bowls.
2.  Barbeque: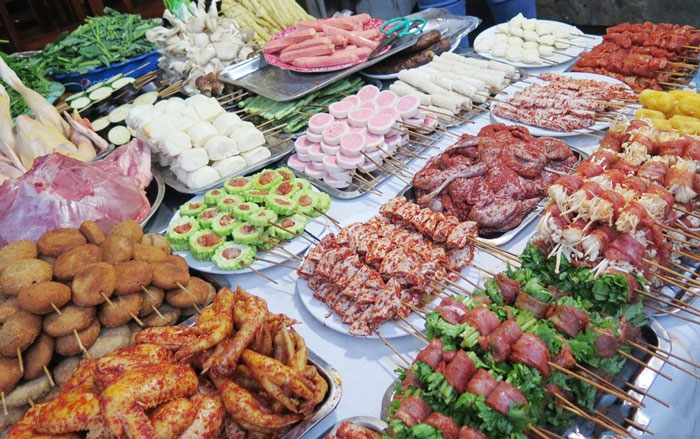 Barbeque in Sapa is very different from the other places, even Western countries. Visiting Sapa, tasting barbeque near the night market in cold days is a pleasure that visitors do not want to miss. Everything in Sapa can be grilled, including: vegetables, corn, potato, meat and even egg. The barbeque in Sapa is very special because it is marinated and grilled with wild vegetables and strange spices that only the upland people have.
3.  Ban's Pig:
Lon Ban (or Lon Cap Nach) is a popular dish with Sapa people. In Vietnamese, the word "Cap Nach" origins from a story that Sapa people always put the pigs under their armpit to go to the market for selling and vice versa. Each pig's weight is about 7-10kg, firm meat and low fat.
  4.  7-color steamed rice:
This type of steamed rice only exists in Sapa. This is also a must-try dish when travelling to this highland. The 7-color steamed rice is the traditional food of the Nung people in Muong Khuong, Lao Cai. The word "seven colors" includes: red, pink, yellow, blue and some other colors. To make this dish, people have to find the vegetable owns this color and mash it into water before soaking rice.
5.  Bacon:
Unlike the other places, Sapa people put bacon on the kitchen stove. This is a family dish in Sapa. Making this dish requires the lean of all kinds of meat, then filtering the fat, ribs and marinating with salt, chilli and other spices of the ethnic minority. The last step is hanging up this bacon on the kitchen stove in order to preserve the meat in long time. Under the heat of fire and the dew will make this bacon become more firm and be cooked.
6.  Salmon hotpot:
Hotpot is a common dish around the world. However, when travelling to Sapa, visitors will enjoy Western-style salmon but price is Vietnamese style. The Sapa's salmon is recommended as low fat, firm meat and high nutritional value. When eating, the salmon is sliced into thin pieces and marinated with a lot of spices which help to create the fatty flavor.Enjoying ahot salmon hotpot in cold days, tasting the sweetness of the broth made of salmon's bones surely satisfy the most fastidious gourmets.
7.  Black chicken:
In Sapa, this chicken has another name, "Ga Ac". This is a special kind of chicken of the Mong people. Black chicken has firm meat and black skin. The famous dish made from black chicken is grilled chicken with honey and mint leaves. This is a nutritious dish that visitors should not miss. 
Same article:
-        Get lost in the Hanoi Old Quarter.
-        Young green rice: A gift come froms dear hometown.
-        Shrimp in batter: Fried shrimp but also not fried shrimp.
-        Vietnamese cuisine Pho: The best traditional in Vietnam.
-        Bun Cha "Obama dish" Hanoi street food tour.
-        Hanoi pancake - Top food in Hanoi street food tour.
Tour relate:
-      Sapa 3 days 4 nights by train with Viet Unique Tours
-      Sapa 2 days 1 night by luxury bus with Viet Unique Tours
-      Sapa tour 3 days 2 night by bus