1.Tour trekking with Hmong and Dao people:
If coming to Sapa to trekking, visitor can try going tour with local guides. Hmong and Dao's trekking guides live in Muong Hoa Valley, near the town Sapa. When trekking with local guides, visitors will receive the benefits that you have never experienced before with normal tour guides such as:
- Local guides grew up in Sapa and know the trails inside out. Their works are guiding people around this beautiful landscape and give them a good time.
- Local guides  prefer working independently and very experienced when coming to guide people.
- All of local guides can speak English.
- When enjoying a tour trekking with Hmong and Dao people, visitors can experience deeply the cultural traits of local people which you cannot experience in nowhere.
However, comparing with normal tour guides, local guides are less enthusiasm than normal guides. Sometimes, they speak English not fluently will make a burden when communicating with visitors. And the cultural conflict between visitors and ethnic minority still exist.
2.Tour trekking to discover Hmong and Dao people's house:
If vistors choose trekking to Ma Tra village, a small village of black Hmong and Dao ethnic people, in here, we will be welcomed in a local house to discover their basic life. Morover, vistors will have chance to understand the local culture and admire the truly terraced rice fields which are made by Hmong people. This is tour trekking to discover Hmong and Dao's house.
Some tips when trekking to discover Hmong and Dao's people:
- Ask for permission to take photos of local people.
- Ask for permission before you want to visit the local people.
- Do not buy antique items as souvenirs because it will lose the heritage of the home because many local people do not know its real value.  
- Do not give local kids anything.
3. Homestay overnight in local house:
So many Western visitors are fond of joining the homestay tours. Tour trekking and overnight in homestay
make everyone rest and not be too tired after trekking one day in long hours. Having one night in homestay in Sapa, which is a captivating mix of dramatic mountainscapes, crisp fresh air and colourfully-clothed hilltribes is pretty wonderful. When staying overnight in local house, visitors must remember:
- This house must be registered for tourism activities. This means that the house must have a toilet, a bed with mosquito nets and must be clean, hygienic.
- Dinner and breakfast will be served by the owner.
- Overnight trekking means you can travel far from Sapa and explore many areas which are explored by a few tourists.
4.Trekking to Lao Chai and Ta Van villages:
Besides Cat Cat village, Lao Chai and Ta Van village are also perfect destinations which are chosen to trekking. Every year, tour trekking to Lao Chai and Ta Van villages are sold as a piece of cake. Lao Chai and Ta Van villages near the Muong Hoa valley,the home of Black H'mong minorities. In this part, we will introduce some tips when visitors trekking to Lao Chai and TaVan.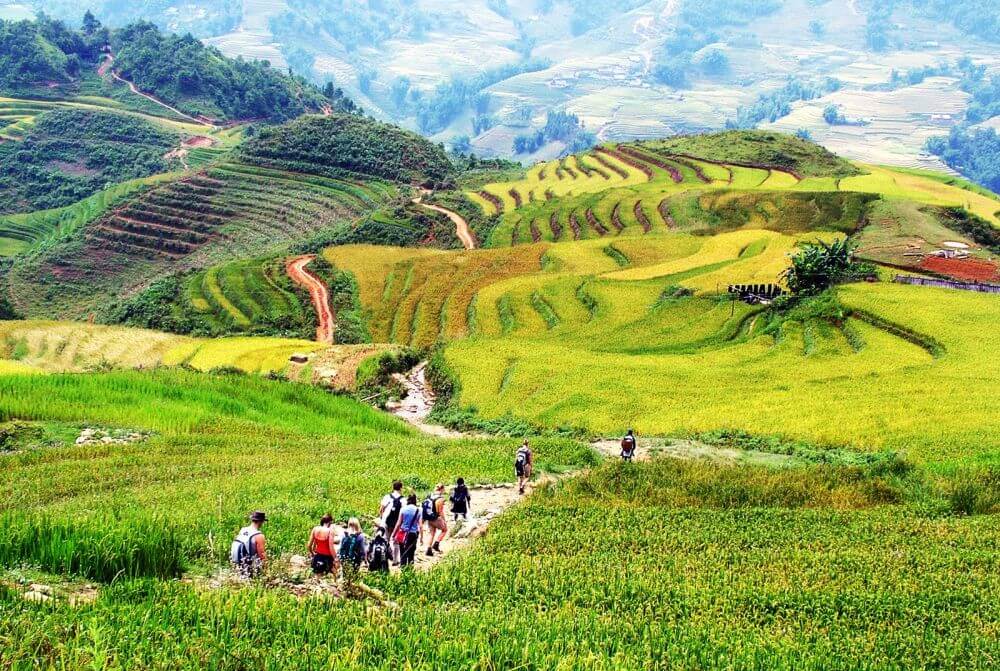 - First, you absolutely must not sit in the middle of the house or the center when visiting their home and you must follow the owner's instructions.
- Second, when seeing the Dao or H'mong people open the ceremony, you are not allowed to take part in. The identifying traits is that in the front gate usually have a bunch of green leaves hanging on the tree.
- Third, when meeting children, it is absolutely not allowed to rub the head or kiss on the head of children because the ethnic minority consider that action as it will make children panic and sick easily sick.
- Forth, ethnic's houses are often divided into different rooms, in which space is always a place of worship and guests are not allowed to sit there. When communicating with local people who are invited to drink water or drink alcohol, if you do not want to use it, please skillfully refuse.
Same articles:
Tour related: