1.  Exploring The Underworld Of Sea:
Coming to Nha Trang, visitors will have an opportunity to exploring the world of sea through a glass at the bottom of a special boat. The boat is designed with transparent glass to help visitors easily admire the sea and the life of creatures under the sea ssuch as coral reefs and a lot of tropical marine species. Just sitting on the boat, you can can explore a myriad of fish, mosses and strange creatures of the sea that you have never seen before.
2.  Visiting Canaries Bird:
Far away the coastline of Nha Trang, there are many small islands. In here, the beach is very beautiful, clean and it also has the cliffs where Canaries exists such as Monkey Island, Mieu Island, Tam Island, Mun Island. Among of them, Mun Island is named as a marine park because of the rich diversity of coral reefs, especially it is known as the habitat of Canaries bird. Visiting this island, you will have a chance to admire the nest of Canaries bird on the naked eye and see the method of making a new nest of this bird.
3.  Catching Squid At Night: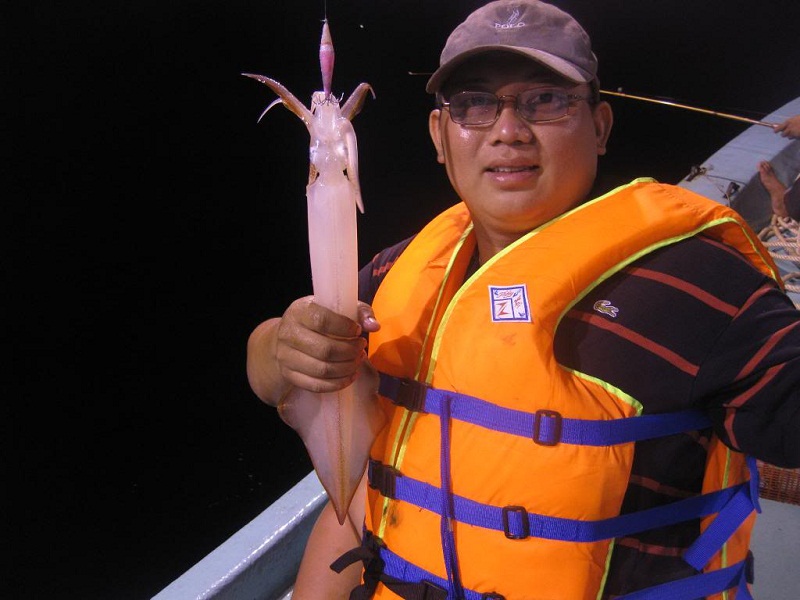 When the night falls down, it is also a perfect time for visitors to start an exploration in the sea. Visitors can follow the ship offshore, from the ship, you will see another image of Nha Trang city with sparkling and colorful lights. After a while, the ship will anchor in the place possesing most squid. Stimulated by the spotlight, the squid will gather around the ship and bites. The most interesting thing when joining in squid fishing is that tourists can sit together and enjoy their achievements right on the ship. The fresh squid will be steamed or grilled and eaten with chili sauce.
4.  Go Diving in Nha Trang:
When travelling to Nha Trang, you definitely have to go diving. Snorkeling offers visitors an authentic experience of a colorful and new world under the ocean, as well as a sports activity that helps people to clear up tiredness and immerse their soulds into nature.
Snorkeling is a popular method of relaxing. If you have a diving certificate such as PADI or SSI, you can go diving at all diving spots, such as Hon Mun, Monkey Island ...
5.  Playing With Monkey:
Sound crazy, but it is truth in Nha Trang. In here, you can see the variety of species of monkeys: long-tail monkeys, tailed macaques, lion monkeys, golden monkey or red monkey. They are trained, so visitors can play with them. Visiting Monkey Island, visitors will enjoy a lot of funny performances such as monkeys catching the ball, or monkeys riding, gymnastics monkeys and so on. Especially in the wild forest at the end of the island, visitors will also be surprised with friendly monkeys, which always ready to jump down to play with you. In here, visitors can also feed the monkey by buying small snack and then giving to them.
6.  Water music performance at Vinpearl Land:
Vinpearl Land is the musical stage of Vinpearl Land with the capacity of 5,000 seats. It is considered as the largest and most modern music stage in Vietnam. This is a special art, with a combination of magic and unique motion effects of sound, light, fire and water. With the sologan, every day is a different day, the Vinpearl musical stage brings to visitors the pleasure of discovering the excellence of the technology of different shimmering, colorful art performances each day. Watching and enjoying the unique harmonies of water, fire and light will bring tourists wonderful flavors.
Sam article:
- Nha Trang tour: Must not miss these 5 beautiful beaches in Nha Trang.
-  Top 6 tourist destinations in Nha Trang
-  These famous dish in Nha Trang, have you ever tried? 
Same tour: