ARCHITECTURE OF VĂN MIẾU – QUỐC TỬ GIÁM
Văn Miếu – Quốc Tử Giám is situated to the south of Thăng Long Citadel. It covers an area of 54,331m2. Including the Văn (literature) lake, Giám park and the interior courtyards surrounded by the brick wall. In front of the Great Portico are four high pillars. On either side of the pillars are two stelae commanding horsemen to dismount.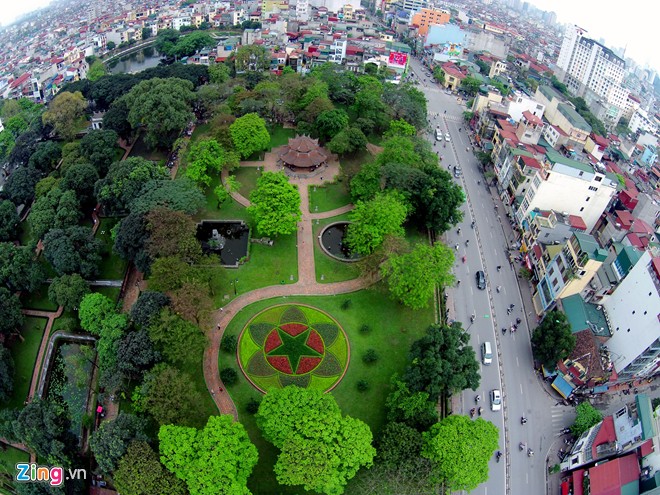 Quoc tu giam view from above
The interior of the site is divided into 5 courtyards:
The first courtyard extends from the Great Portico to the Đại Trung (Great Middle) gate, which is flanked by two smaller gates: Đại Tài (Attained Talent) and Thành Đức (Accomplished Virtue).
The second courtyard is notable for the Khuê Văn pavilion, a unique architectural work, built in 1805, a symbol of Hà Nội capital today. To the sides of the Khuê Văn pavilion are Sắc Văn (Crystallization of Letters) gate and Bí Văn  (Magnificence of Letters) gate, which praise the beauty of the content and form of literature.
Khue Van Cac
The third courtryard is used for housing 82 doctor's stelae symmetrically lined up on the two sides of Thiền Quang well, leading to the fourth courtryard is the Đại Thành (Great synthesis) gate, flanked by two smaller gates: Kim Thanh (Golden Sound) and Ngọc Châu (Jade Vibration).
In the fourth courtyard,on the right and left sides of the ceremonial  court stand two houses, originally used to house the altars to the 72 most honored disciples of Confucius and Chu Văn An. Director of Quốc Tử Giám. In the center is the Bái Đường (House for ceremonies) where ceremonies took place at the festive time. The next building is Đại Thành sanctuary where Confucius and his four closest disciples: Yanhui, Zengshen, Zisi, and Mencius are worshipped. The sanctuary also houses altars to 10 honored philosophers.
House for ceremonies
The fifth courtyard, originally the first National University, was used for the instructions and studies of Confucian scholars. Later Khải Thánh shrine, dedicated to Confucius' parents, was built. In 2000 the Thái Học courtryard was constructed on the former ground of the Quốc Tử Giám to celebrate the 1000th anniversary of Hà Nội foundation and to honour traditional culture.
the Thái Học courtryard
Temple of Literature is one of four places in the Hanoi city tour 1 day of Viet Unique
Please click here for more details