Vietnam is a Buddhist country, where owns many beautiful and famous pagodas and temples. Among them, there is one pagoda which is considered as the biggest and most beautiful in Vietnam is Bai Dinh pagoda. Let Viet Unique Tours learn about Bai Dinh Pagoda through Bai Dinh - Trang An 1 day trip.
1.  The history of Bai Dinh pagoda:
More than 1000 years ago, three King Dynasties: Dinh, Tien Le and Ly was born in Ninh Binh province with Hoa Lu as the ancient capital at this time. These three feudal dynasties were very interested in Buddhism and turned Buddhism into the main national religion. This is also the reason why so many temples were built in Ninh Binh. Bai Dinh temple is one of the most ancient temples which has been full preserved up to now.
2.  The geographical location of Bai Dinh pagoda:
Bai Dinh temple locates at the West gateway of Hoa Lu ancient capital, near HighWay 38B, Gia Sinh commune, Gia Vien, Ninh Binh province. It is far away from Ninh Binh city about 15km.
Bai Dinh covers an area of 538ha which includes 27h of ancient Bai Dinh pagoda and 80ha of new Bai Dinh pagoda.
3.  Ancient Bai Dinh pagoda:
If visitors want to go up to the pagoda, you have to go through 300 stone steps. The higher you step, the fresher and cooler air you will feel.  In the middle of the way up, there is the Voi Phuc cave on the right and the cave which worships the Red Face is guarding the Bai Dinh Pagoda. Go to the fork: on the right is the Buddha worship, on the left is the temple worship.
Tien Cave, also known as Dark Cave, is much larger than the Buddha Cave. In this cave there are seven small caves, some on the high, others in the deep and each cave is connected through many stone niches. At the fork, if you do not turn into Tien cave, you can step about a few dozen steps. This way lead you go to Buddha worship (also known as Giong Sang).
4.  New Bai Dinh Pagoda:
-         Three internal:
It is built from high-end timber of 16 feet high. The unique feature is the four wooden posts, each with 13.85m high, 0.85m in diameter, weighing about 10 tons. Tam Quan has three layers of roof bending on four sides and they are roofed by Bat Trang dark brown enamel tubes. This is a large and massive structure which is made of wood. A bronze Dharma guard is placed in the middle. There are two other statues, each with a height of 5.5m and the weight is 12 tons.
-         Big bell:
The bell tower is built of reinforced concrete with wooden imitation. It is architectured according to the octagon shape which has the height is 22 m. Diameter of the tower is 17m. The bell tower has 3 floors including 24 curved roof. Bell tower hung a 36-ton bell which is casted in Hue.
-         The Quan Yin Bodhisattva
It is built entirely of wood. The temple is 14.8m high, 41.8m long and 17.4m wide, including 7 compartments. On the high platform in the middle of temple, it has the statue of the Bodhisattva with 1,000 eyes and 1,000 hands. This statue is casted by bronze and its weight is 80 tons, the height is 9.57m. This is also the largest bronze statue of Bodhisattva in Vietnam.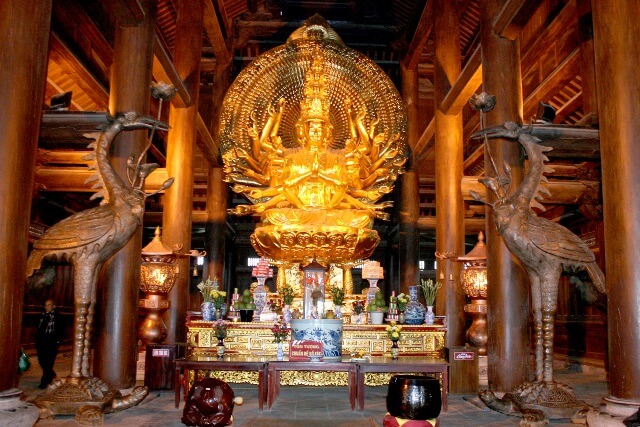 -         Phap Chu Temple
The whole building is made of massive reinforced concrete. Its height is 30m 47.6m in length and 43.3 m in width, including 2 layers of curved roof. There are 5 compartments, the space between them is 13.5m in length and four in two sides, each one is 8m long. The special place in this temple is in the middle of the high platform. There is a large statue of copper monolith here with 10m high and it weighs 100 tons.
-         Tam The Temple:
It locates on a high hill, about 7m above the sea level. This is a very tall, large, monumental and imposing monastery in Bai Dinh Pagoda. The tower is located on the highest hill in the region, up to 34m high, 59.1m long and 40m wide. The indoor area is about 3,000m2. Tam The temple also hung three horizontals, 3 large hammocks and 3 bronze statues, each statue is 7.2 meters high and they weigh 50 tons.
-         The Arhat Corridor
It consists of 234 compartments in both the east and west with a length of 1,052m. In the halls of the corridor, there are 500 statues of Arhats made of monolithic stone, each statue is 2.4 m high, weighing about 4 tons and each is hand- made by craftsmen of Ninh Van commune, Hoa Lu district, Ninh province. Processor. In Vietnam, there are not many temples in Arhat such as Bai Dinh Pagoda.
-         Jade hole
It is the well of the old Bai Dinh pagoda is rebuilt near the foot of Bai Dinh Nearly 1,000 years ago, Master Nguyen Minh Khac took water in this well to cure for Crown Prince Duong Hoan. Well is built according to the moon shape, very wide with a diameter of 30m, depth of water is 6m and it is never depleted water. The mouth of the well is made of stone. The area is around 6,000m² in square with 4 corners are in octagonal shape.